SEMEN AND EMBRYOS FOR SALE
---
#352 Kish's No Guts
ABBI# 10130569
Straws: $250ea. Stored At REI Stillwater.

NFR AND PBR Built Ford Tough Retired Bucking Bull.
No Guts bucked on the Built Ford Tough tour until he was 10 years old and could have gone longer. As a 9 year old, he bucked off PBR World Champions Kody Lostroh and Silvano Alves.
No Guts is double bred Top Gun(Sire to lots of greats including Page's premier herd sire, Kish's Smooth Move.) He's also got Too Legit and Wolfman in his background.
No Guts was marked as high as 23 points on several occasions in his prime. This is the type of sire that will produce Derby/Classic type prospects, not dummy calves. (as is the same with Smooth Move)
Our first calves by No Guts were born in 2013. See videos to the right.

No Guts at 8 Years Old.

No Guts 2013 Bull Calf, Bloyd 315.

No Guts 2013 Heifer Calf, Bloyd 307.
---
#111 Winchester's Image
9 Year Old Retired PBR Built Ford Tough Bull
Born and Raised on the Bloyd Ranch
1750# Bucking Bull
ABBI #10031938

Semen - $150/Straw
Live Breeding - $650/Cow for 60 days. Cow Care is included. Payment must be made at the time the cow is dropped off. Live calf guarantee.

His calves have been outstanding and he's only been bred to a few rodeo bred cows. A son of 111 sold at the inaugural Back Seat Buckers sale for $82,500 and was selected 2nd overall. Bloyd 08 placed 1st out of 30 bulls in the selection process in the first BSB video submisson.
Video: Bloyd 08


Check out three of his sons on our

BULLS

page.
---
9 Year old injured Bucking Bull
ABBI # 10021063
Flush Quality Semen - $125.00 / Straw
Live Breeding - $450.00 / Cow
This bull was a promising 2 year old. He was entered in the 2006 ABBI American Heritage.
When he came out of the chute, he turned back and hipped himself badly and was visibly injured. He was turned out to heal. A year or so later he was bucked with a rider and was not the same bull. We purchased the bull from Greg Potter who has been breeding to him for a couple of years. Greg has had some good calves out of him on a small set of cows. I leased this bull out to two different friends of mine in 2011. They've both got outstanding bull calves out of this bull and each have had one of their bulls win a yearling event in 2012. Cash To Win is proving to be one of those "Fence Post" bulls. (you can breed him to a fence post and the calf would buck) Cash To Win is a gentle bull and he puts some brains in his calves. He is a perfect cross for those hot headed spot cows.

This bulls genetics speak for themselves. Winchester is a producer. Kish 003 is a producer(301 Cash and 135 Captain) Kish 701 Buckle Bunny is the grand dam to 269 Thunder Down Under.
Watch a 3 year old son of 461 buck below and some of his 2012 calves. 461 has 13 ABBI registered sons. Below are videos of 6 of them.

---
ABBI # 10143625
Flush Quality Semen - $100.00 / Straw
He was a rank bull before he was retired.
Now owned by D.J. Wheeler, Texas



Other Semen Stored at REI - Stillwater, OK and Champion Genetics
Discounts available for multiple straws and/or package deals.

#620 Kish's Shyster (Wolfman son) Top producing Sire-$200/straw-- Champion
#655 Seg's The Juice (Mr. Juicey son) Top money bull in PBR $500/straw--Champion
#514 Kish's Real Deal (Too Legit son) Top producing sire $500/straw--Champion
#635 Mr. Juicy- (Too Legit Son) Top Producing Sire- $750/straw
#R8 Roddy Brown (AKA Copenhagen Kish)Top Producing Sire $1000/Straw
#352 No Guts-(NFR/PBR Finals Bull)-$200/straw
#432 Kish's Evil Eyes (Harlem Wolf x Kish Cow) Sire to multiple good bulls $150/straw--Champion
#231 Ghetto Fabulous-(NFR Bull)-$100/Straw
#574 Kish's Party Hound (Harlem Wolf x Kish 21 Ugly's Mother) NFR and PBR Finals Bull $150/straw
#461 Cash To Win(Winchester X Cash's Mother)- $125/Straw
#711 Real Juicy (Real Deal X Mr. Juicy cow) $300/straw
Kish's Vindicator Proven Producer(Mr. T Son) -$100/straw
Kish's Blowin' Smoke (Kish's Winchester Son) - $100/straw
Kish's Razor Sharp NFR/PBR Finals Bull. A proven Producer(499 Tombstone X Too Legit Daughter) -$100/straw
#174 Kish's White & Wild $100/straw
#620
A0 Twilight Zone (AKA Sgt. Speck NFR/PBR Finals)Proven Producer- $150/Straw



EMBRYOS:(Stored at Four Corners Embryo Transfer Strang, Ok and at TransOva Centerville, Tx)
All embyros listed are #1 Direct Thaw IVF created embryos. We also have a recip program available if you want to pick up a calf from one of these crosses at weaning. Call for info and availability.

#34 Oscar's Velvet x 22 Winchester Girl (Dam to Winchester's Image)-$750


#007 Yippy High Yeah(Sire To I'm A Gangster)x Kish 536(Dam to 7427 Black Bart)-$750


#34 Oscar's Velvet(1983 PRCA World Champ and sire to many greats) x Kish 536-$750

#624 Wolfman x 22 Winchester Girl (Dam to Winchester's Image)-$600

#624 Wolfman x Kish 630 (Kish's Thin Ice X Kish 105) Kish 105 is the grand dam to Page's 22s Priceless: $650

R8 Roddy Brown X 22 Winchester Girl (Dam to #111 Winchester's Image)-$500


#542 Kish's Freeloader(Too Legit) X 22 Winchester Girl (Dam To #111 Winchester's Image)-$800

#620 Kish's Shyster x Blythe 403(Kish's Winchester x Kish 24)- dam to The Machine-$400

#362 Kish's Gambler X Kish 819 ABBI# 10003452 AKA Miss Kish (Dam to 463 Blackjack)-$300
(Calf below is from the same mating)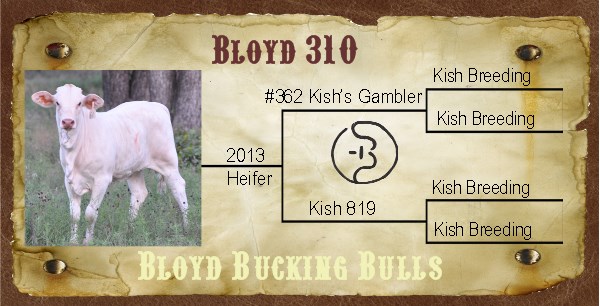 ---